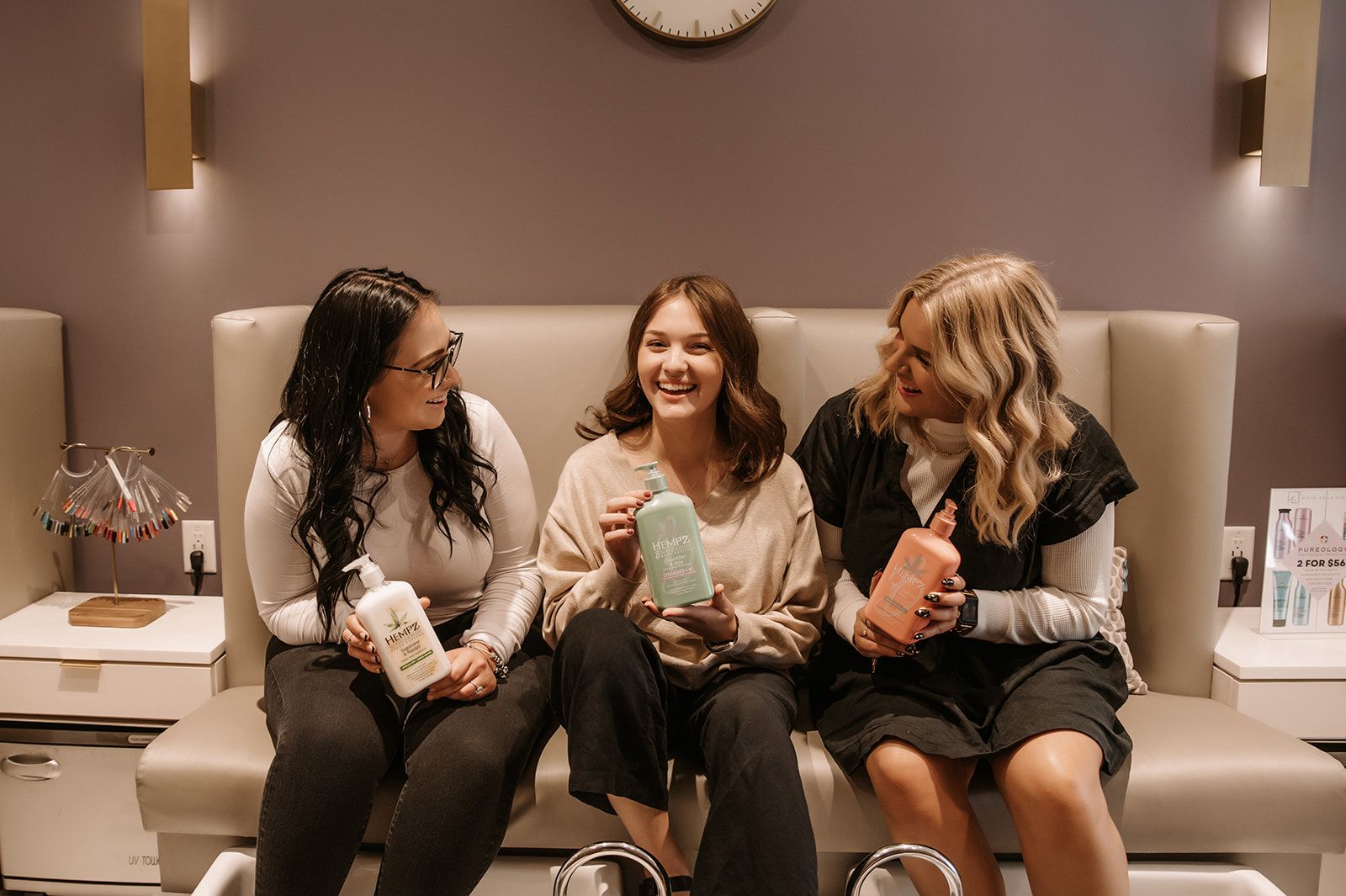 At Hair Solutions we believe that nail care is part of a balanced, healthy lifestyle. Our trained nail technicians are experts in helping you achieve your goals – whether it's the perfect no-chip red or healthy aging concerns like hyper-pigmentation. Using the latest innovations in nail and skin care paired with luxurious and efficacious products from CND, Artistic, and Dermalogica, our team will customize a nail regimen that suits your needs.
Ask our Guest Service Experts about adding a manicure or pedicure to your hair color service!
All first-time clients will receive a 5 minute nail consultation. We recommend working with your nail technician to build on our core manicures & pedicures, adding customized treatments that will help you achieve your goals.
Dermalogica Signature Spa Manicure (from $39)

Experience our finest Dermalogica Skin Care natural nail manicure that promotes visibly younger looking hands with this age-defying treatment. Complete nail and cuticle care provided. Enhance, treat & condition your hands for your total beauty picture. A truly loving gesture of care and pampering for your hands. Polish of your choice.

Shellac Manicure (from $43)

Our most popular "Power Polish"! Shaping of the nails, cuticle care, hydration of your hands and massage. Enjoy a creative nail polish experience that can last up to 2 weeks!

Classic Manicure (from $29)

Shaping of the nails, hydrating of your hands, massage and cuticle care. Polish of your choice.
Acrylic Full Set (from $75)

Enhance your natural nail by adding acrylic over tips to the nail, adding length of your choosing. This process helps to strengthen the natural nail so it can grown underneath with full protection.
Acrylic 2 week fill (from $60)
Acrylic 3 week fill (from $65)
Acrylic 4 week fill (from $70)
Acrylic Overlay (from $65)

Enhance your nails by adding an acrylic overlay to your natural nail. This adds a strengthening layer, while keeping the integrity of the nail.
Acrylic Overlay 2 week fill (from $55)
Acrylic Overlay 3 week fill (from $60)
Acrylic Overlay 4 week fill (from $65)
*Hair Solutions does not fill other Salons work.
Dermalogica Signature Spa Pedicure (from $66)

Experience this Pedicure upgrade with all the benefits of the Signature Pedicure using our finest Dermalogica Skin Care. In this 1 hour service the Feet will be exfoliated, hydrated to relieve dryness, smooths and conditions your skin with natural    botanical extracts.

Signature Pedicure (from $63)

Our new HS Signature Pedicure is all about you! Nails are shaped, cuticles groomed, feet exfoliated followed by a moisturizing mask. Choose one item from the Pedicure Enhancement Menu below and select your favorite refreshing summer scent scrub, lotion, and mask. Make this as unique and special as you are! The relaxing finale is a pressure point massage. Truly a one of a kind and rejuvenating experience.

Classic Pedicure (from  $56)

This service is truly a loving gesture of care for your feet. Our Pedicure products are filled with natural ingredients rich in vitamins, minerals, antioxidants and essential oils to moisturize, soothe and polish the skin. Lotions change with the seasons. Nails are shaped, cuticles are groomed, feet are exfoliated & moisturized. Sit back and enjoy a relaxing foot massage. Polish of your choice.

Express Pedicure (from  $42)

Great for the person on the go. Shape & clean the nail & cuticles, light sugar scrub and a wonderful moisturizing treatment. Polish of your choice OR callous exfoliation. (Great during the         winter months).
Nail Enhancements
Warm Stone Massage (from $10)

Pinpoint areas of concern and relax overworked muscles in the hands and feet.

Warm Paraffin Wax (from $10)

This warm, moisturizing treatment is the perfect escape from dry, seasonal skin.

Glycolic Exfoliating Treatment (from $10)

Experience ultra-smooth results for your rough, callused hands and feet.

​French Design (from $10)

A classic look for hands or feet - oh la la...

​Custom Nail Design (from $8)

Go ahead - express yourself!

Toe Wax (from $10)

Great for Summer months!

Shellac Polish on Toes (from $15)

Enjoy our "Power Polish" on your toes! (Hair Solutions will not remove shellac polish done from other establishments.)